*DRASTIC MAKEOVER ANNOUNCEMENT*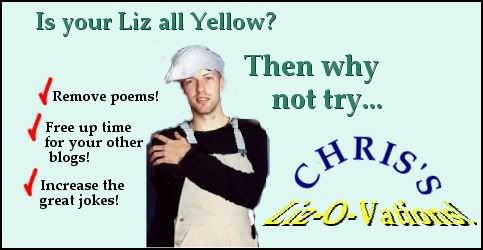 I'm getting Chris in.
This Lizjournal has gotten far too emu lately, and it's not good for anyone. I've obviously gotten my interest for blogging back, but I can't continue doing these whiney entries, day after day.
However, I also can't return to blogger, because no one is going to read it, and the Love Pavilion has been opened and shut so many times it's beyond a joke.
SO. THIS IS WHAT IS GOING TO HAPPEN:
-
Every post I have ever made on this Livejournal will be privately locked, so they can never be read again.
-
Every future post will be UN-locked, because they will be free of Emu Freakouts, and thus okay for anyone to read.
It's a new dawn, of bright and breezy fun lizzing.
Can anyone recommend a good LJ client, so I can mass lock everything? Because I've had this thing for 4 years, and that's a lot of emus to lock up.